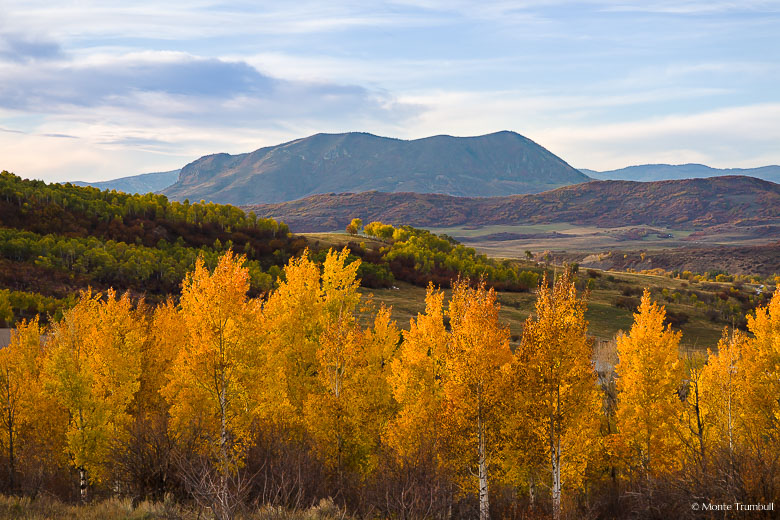 The fall colors have been anything but predictable this year, especially here in Colorado. It seems that all the rain we had in September fooled the aspens into thinking it wasn't time to start changing! Stands that were at peak color at the end of September last year were still green this year. Reports from photographers visiting the most popular locations in the state were not good at all. That was except for those from my friend and fellow photographer Rod Hanna. He said that northwest Colorado was the place to be. I couldn't get my gear packed quick enough to pay him a visit!
The great thing about the area is that it is not on everyone's radar. You are hard pressed to run into another photographer while roaming the countryside. Rod was a gracious host and showed me many of his favorite locations. It was refreshing to visit and shoot in places I had never seen. This scene is from right in Steamboat Springs. The Sleeping Giant (Elk Mountain) is a local landmark and visible from all around town. It is the lone peak towering over 8,700 feet along the Elk River valley. Rod regularly hikes along a trail above the ski jump and had seen that this stand of aspens was looking pretty good. We headed up there at sunset one evening hoping that the clouds that had been building during the day would provide some drama. We didn't get much of that, but the sun did break through and light up the aspens, providing a nice anchor to the image.
Click on the image to view a larger version in the galleries.