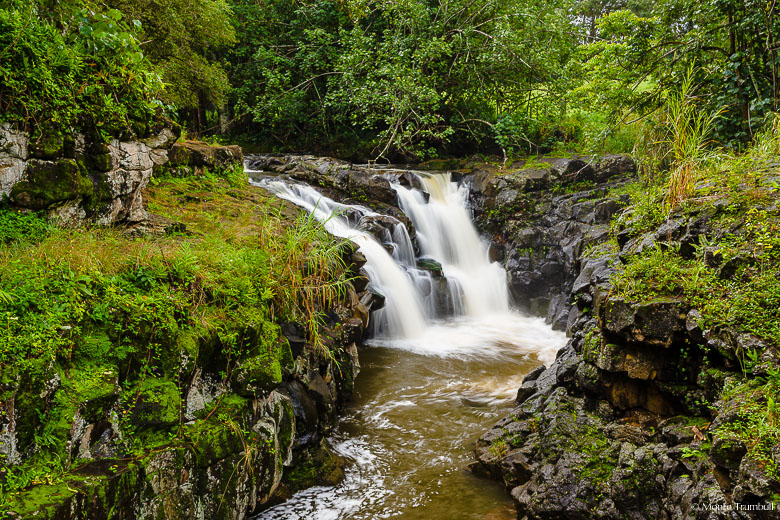 There are a lot of waterfalls in Kauai which is understandable since one of the wettest places on Earth is in the middle of the island. Mount Waialeale gets an average of 450 inches of rain every year. All this water naturally flows down the mountainside to the ocean. Many of the falls can only be seen from the air and the others require traversing damp trails through the jungle.
Hoopii Falls was one of the easier to get to falls that I had on my list to visit. It is right out of the town of Kaapa. In fact you park in the middle of a neighborhood to find the trailhead. It took a while, but I managed to find where the trail drops down from the road and park in one of the few spots available. It had been raining earlier in the morning which turned the dirt path into a slippery mess. I swear it would have been easier to just slide down (if it weren't for the occasional rock or log sticking out!).
Once I reached Kaapa Stream, the trail headed downstream where I come upon the first of two sets of falls, Upper Hoopii Falls. After carefully working my way along the slick rocks downstream of the falls, I realized that the better viewpoint would be from the other side of the stream. Of course, to get to the other side involved finding a safe spot to cross the rain swollen stream. That was about back to where I started. Once on the other side, I stumbled through the brush and the steam to get back to the falls. I spent some time gingerly scrambling along the rocks until I had extinguished all of my possible shots. I was ready to head downstream to the next falls.
Of course, this meant I had to retrace my steps back upstream. By the time I got back to the other side, I was beat. The mosquitoes were getting the better of me and I was soaking wet. I felt like a weenie, but I decided to give up and just head back to the car. Now that I look back, I could kick myself. The taller falls are the ones downstream! Maybe next time…
Click on the image to view a larger version in the galleries.