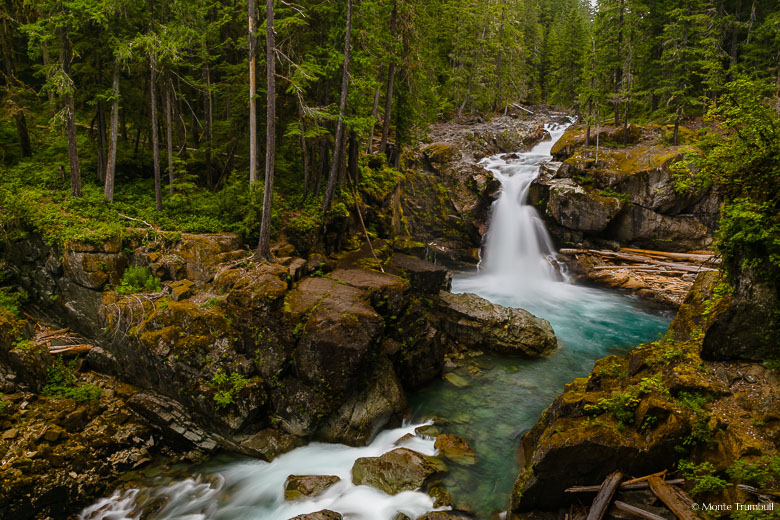 I just returned home from a trip out to Mount Rainier National Park outside of Seattle. My son Justin joined me for the first part of the trip and we had fun exploring the park for our first time. We were greeted by clear blue skies and unheard of temperatures close to 90 degrees in the park. Not at all what I expected!
After a fairly fruitless first day where it was just too darn hot to want to do much, we decided to hit a few waterfalls early the next morning before the sun made its way into the woods. The first stop was at Silver Falls just inside the Stevens Canyon entrance. It looked simple enough to get to and I had the GPS coordinates to the trailhead plugged into the car. I suppose it might have helped if I would have followed its directions, but instead I had in my head a different spot for the falls. After turning around multiple times and getting out to search along the roadway, we were ready to give up and ask for direction at the park entrance. That is until we turned the corner and then the GPS directions made sense! It turns out that we had been using the official park map
which doesn't show the roads right outside the park. That also explains a couple of hours of wandering looking for someplace we did the first day. Just goes to prove that if you are going to use technology, you might want to trust it!
The falls did not disappoint once we finally reached them. The dim light made for a serene scene with a steady flow of water coming over the falls. There was quite a bit of spray and it was quite a slippery drop to get down to water level, so I opted on the side of caution and settled for this composition from the developed overlook. I can't complain at all!
Click on the image to view it larger in the galleries. Fine art prints are available.