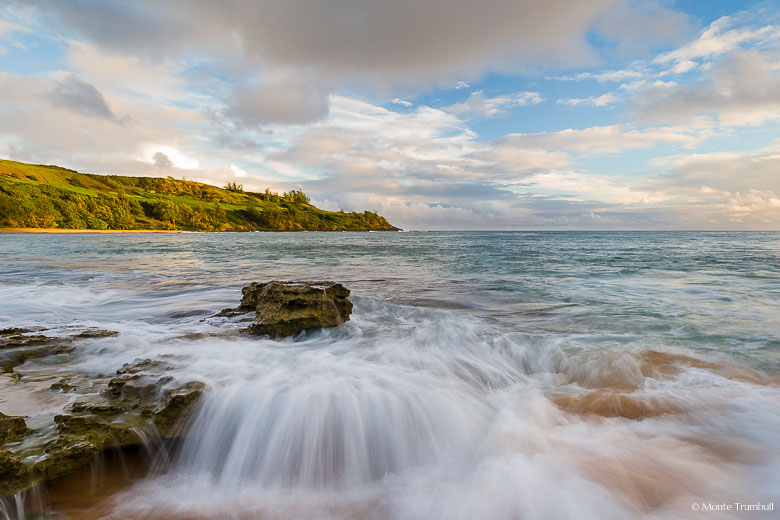 I timed my trip to Kauai right when the ocean swells were at their peak. Not that I did that intentionally. It did make me change my shooting plans, especially along the north coast where the waves could be fierce at times.
I decided to stick to my plan on the second morning on the island and I got up early to head to the northeast coast to a small bay I had read about. Moloaa Bay is most famous for being where they filmed the first episode of Gilligan's Island back in the sixties. But that wasn't why I was going. The beach is lined with lava rocks and I had seen some really nice pictures of water flowing over them. I was hoping that the waves wouldn't be so high as to cover them up.
After wandering around on some neighborhood roads and referring to my directions a couple of times, I found one of the few places to park while it was still dark. A short walk down the road came to a trail between some houses that led to the beach. The waves were crashing in, but I could still make out the rocks a ways up the beach. I found a (somewhat) safe place to set up and waited for sunrise. Then the rain set in. It started out as a gentle rain, but soon it was pouring. Fortunately I had a couple of umbrellas to keep my gear and I relatively dry. The rain soon let up, but by sunrise the clouds were still pretty heavy to the east. I was about to pack things up when the sun began to poke through. I quickly searched for a new composition facing the other direction. Soon the sun lit up the hillside across the bay and out of the many frames I shot, I came away with this one of the waves sweeping over the rocks.
Click on the image to view a larger version in the galleries.